angefangen hat es damit das Banksy letztes Jahr ein Grafitti von Robbo uebermalt hat aber nicht irgendeines, sondern sein bekanntestes und eines der aeltesten hier in London. Robbo hat dann zurueckgeschlagen und seinerseits das Banksy Grafitti abgewandelt/uebermalt. Seitdem  geht es hin und her. Aus einem "I don't believe in global warming" von Banksy wurde ein "I don't believe in war", dass dann wiederum weiss uebertuencht und mit einem Schablonenvogel von Banksy verziert wurde. Heute bin ich dran vorbeigegangen und es sieht so aus als ob das Team von Robbo jetzt persoenlich wird:

"Banksy he's not the Messiah, he's a very naughty…."
Auch die anderen Arbeiten am Canal sind Gegenstand des Kleinkriegs, der fischende Junge sah heute so aus: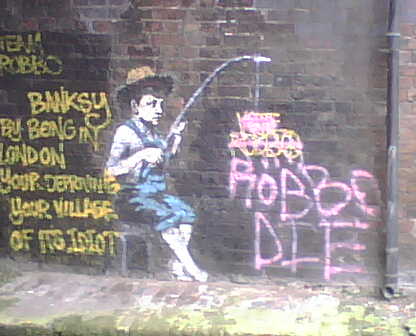 "Banksy by being in London your (sic!) depriving your village of its idiot" und "vote Robbo", die pinke Schrift stammt wohl eher von irgendeinem Kiddie.